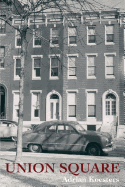 October 11, 2018
6:00 p.m. – 7: 00 p.m.
Author Adrian Koesters will read from her new novel Union Square ~
"The year it was, even, had a lovely ring to it. Nineteen fifty-two. The war and all, it was over. Things were going to get better and better." In the Union Square neighborhood of southwest Baltimore, 1952 will in fact mark the beginning of what will come to be known as The Great Decline.
Adrian Koesters is a native of Baltimore, Maryland. She attended high school in Bellingham, Washington, and has lived most of her life in Nebraska, where she has worked in Omaha and Lincoln as a high school teacher, secretary, sign language interpreter, academic advisor, editorial specialist, and university professor.
She holds an MFA in poetry from the Rainier Writing Workshop at Pacific Lutheran University, and a Ph.D. in English (fiction and poetry writing) from the University of Nebraska-Lincoln, where she was an assistant editor in Poetry for Prairie Schooner magazine and an assistant editor for Ted Kooser's syndicated newspaper column, "American Life in Poetry." She has taught creative writing at the University of Nebraska-Lincoln and Creighton University, and currently works as the research editor at the University of Nebraska Medical Center.
Books available for purchase and Adrian will sign them!