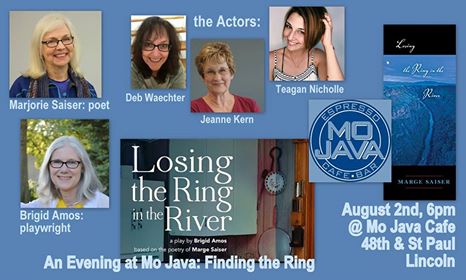 August 2, 2018
6:00 p.m. – 8:00 p.m. at Mo Java Cafe (48th & St. Paul Street, Lincoln).
What happens this evening at Mo Java?……well, playwright Brigid Amos will select some poems from the book, Losing the Ring in the River….poet Marjorie Saiser will read these poems….Brigid will tell how she used those particular poems to write some scenes in the play, and three actresses, Deb Waechter, Teagan Nicholle, and Jeanne Kern, will read those scenes.  Pam Barger will add her take with a song inspired by the poems and play.
Simple, eh? …..But fun, challenging, and thought-provoking…………and, Francie & Finch will there selling books!