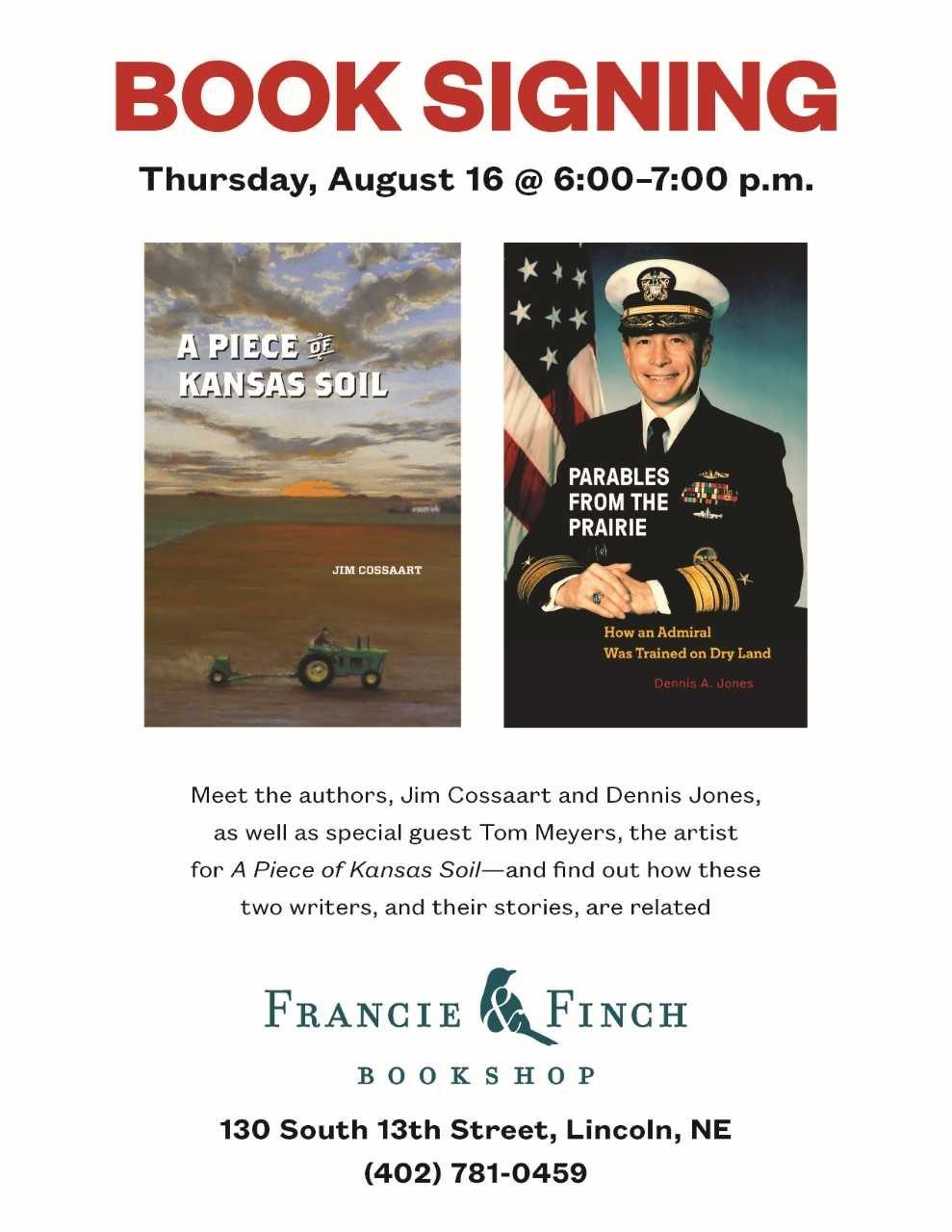 August 16, 2018
6:00 p.m. – 7:00 p.m.
Meet Jim Cossaart, author of A Piece of Kansas Soil ~
Jim Cossaart was a windmill repairman, a blacksmith's apprentice, a tractor salesman, a rancher, and a farmer, who eventually became a dentist. Jim's prairie home has been in his family for six generations. Surviving dust storms, tornadoes, the farm crisis of the 1980s, and near bankruptcy, his farm still stands as a symbol of the tenacity of the tallgrass prairie itself. These beautifully composed stories of the Great Plains, filled with suspense, redemption, love, and barely believable characters, provide the backdrop for the author's personal struggles to preserve both the land and his relationship to it.
AND
Dennis A. Jones, author of Parables From The Prairie ~
Vice Admiral Dennis A. Jones, USN (Ret.) grew up in landlocked Fairbury, Nebraska, in the middle of flyover country. It was an unlikely starting place for someone who subsequently spent thirty-seven years in the Navy, serving on and commanding submarines.
Every day of my career I made decisions that were based on lessons that I had learned in Fairbury, Nebraska, and on a farm in Mahaska, Kansas… I knew that my childhood had given me the tools necessary to succeed and to approach situations in a logical manner. I had been taught to be decisive in my decision making, but most of all, I had been taught … to listen… You can learn a lot from other people, good things and bad things, if you will just listen I made a career of it. And it all started while observing the good, bad, and stupid things that happened in my childhood parables.
Books available for purchase and Dennis and Jim will sign them.  Come find out how these two writers are related!  Bonus, artist Tom Meyers will be here with the original painting that was used for Jim's book cover art!