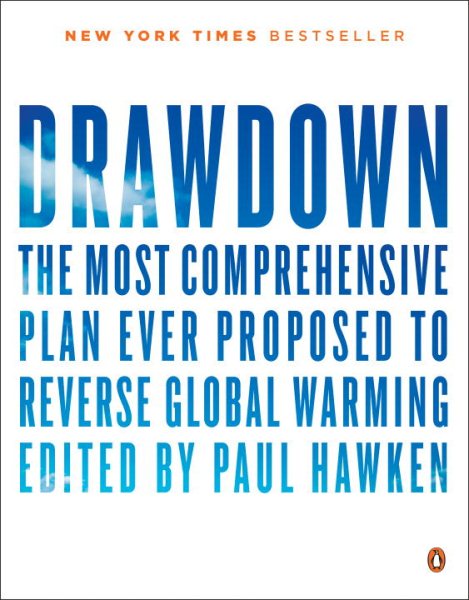 October 17, 2018
5:30 p.m. – 6:30 p.m.
The Robert B. Daugherty Water for Food Global Institute (DWFI), in partnership with Francie & Finch Bookshop, present a conversation with DWFI Research Associate Babak Safa and DWFI Global Fellow George G. Burba. The evening will focus on work featured in the New York Times Bestseller, Drawdown—The Most Comprehensive Plan Ever Proposed to Reverse Global Warming. Light refreshments will be provided and a Q+A session will follow.
In Drawdown, editor Paul Hawken ranks and explores 80 solutions proposed by researchers to reverse global warming. Safa responded to Hawkens' call for collaborators and spent several months working on research and data analysis for the solution ranked 28th – multistrata agroforestry. He submitted his article in 2016 and its findings were published in Drawdown in 2017, along with the work of other scientists and scholars. At the Oct. 17 event, copies of the New York Times Bestseller signed by Safa will be available for purchase. Safa and Burba will provide a time for audience questions and share research surrounding multistrata agroforestry and other research from the DWFI.
Multistrata agroforestry mimics the structure of the forest to maximize both horizontal and vertical space when cultivating food. The technique takes sloped land or degraded soil in places where crops may struggle and provides an energy-efficient way to produce food and resources. Home gardens are also an important approach to multistate agroforestry, as they "are small plots comprising dense, diverse layers of trees and crops, planted where people live," says Hawken. "Because they generate food security, nourishment, and income, on top of ecological benefits, home gardens have been dubbed 'the epitome of sustainability.'" 
In Drawdown, Hawken asserts that multistrata agroforestry is among the most energy efficient systems of cultivation in the world. He estimates that its adoption on another 46 million acres by 2050 (on top of the 250 million acres that currently exist), could reduce carbon dioxide emissions by 9.3 gigatons and save $710 billion.