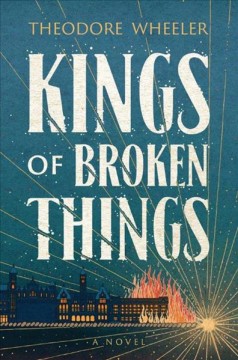 January 30, 2019
1:00 p.m. – 2:00 p.m.
Meet Ted Wheeler, author of Kings of Broken Things and Nebraska Book Award honoree.
With characters depicted in precise detail and wide panorama—a kept-woman's parlor, a contentious interracial baseball game on the Fourth of July, and the tragic true events of the Omaha Race Riot of 1919—Kings of Broken Things reveals the folly of human nature in an era of astonishing ambition.
During the waning days of World War I, three lost souls find themselves adrift in Omaha, Nebraska, at a time of unprecedented nationalism, xenophobia, and political corruption. Adolescent European refugee Karel Miihlstein's life is transformed after neighborhood boys discover his prodigious natural talent for baseball. Jake Strauss, a young man with a violent past and desperate for a second chance, is drawn into a criminal underworld. Evie Chambers, a kept woman, is trying to make ends meet and looking every which way to escape her cheerless existence.
As wounded soldiers return from the front and black migrant workers move north in search of economic opportunity, the immigrant wards of Omaha become a tinderbox of racial resentment stoked by unscrupulous politicians. Punctuated by an unspeakable act of mob violence, the fates of Karel, Jake, and Evie will become inexorably entangled with the schemes of a ruthless political boss whose will to power knows no bounds.
Written in the tradition of Don DeLillo and Colum McCann, with a great debt to Ralph Ellison, Theodore Wheeler's debut novel Kings of Broken Thingsis a panoramic view of a city on the brink of implosion during the course of this summer of strife.
Books available for purchase and Ted will sign them.