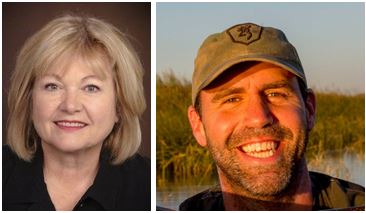 June 1, 2019
5:30 p.m. – 7:30 p.m.
Enjoy the First Friday Reception, meet authors Margaret Lukas & Jeff Kurrus and pick up signed copies of their books.
Margaret Lukas is the author of Farthest House, 2015, and her recent novel published in 2019, River People. For over a decade she taught creative writing at the University of Nebraska@Omaha. She is a recipient of a Nebraska Arts Council Fellowship Award.  Her award-winning short story, "The Yellow Bird," was produced and premiered at the Cannes Film Festival. She has writings in several anthologies and is hard at work on her third novel. 
Jeff Kurrus is the editor of Nebraskaland Magazine and author of Golden Sower finalist Have You Seen Mary? and his latest children's book, Can You Dance Like John? He lives in Gretna, Nebraska with his wife, Laura, and two kids, Madeline and Eli.