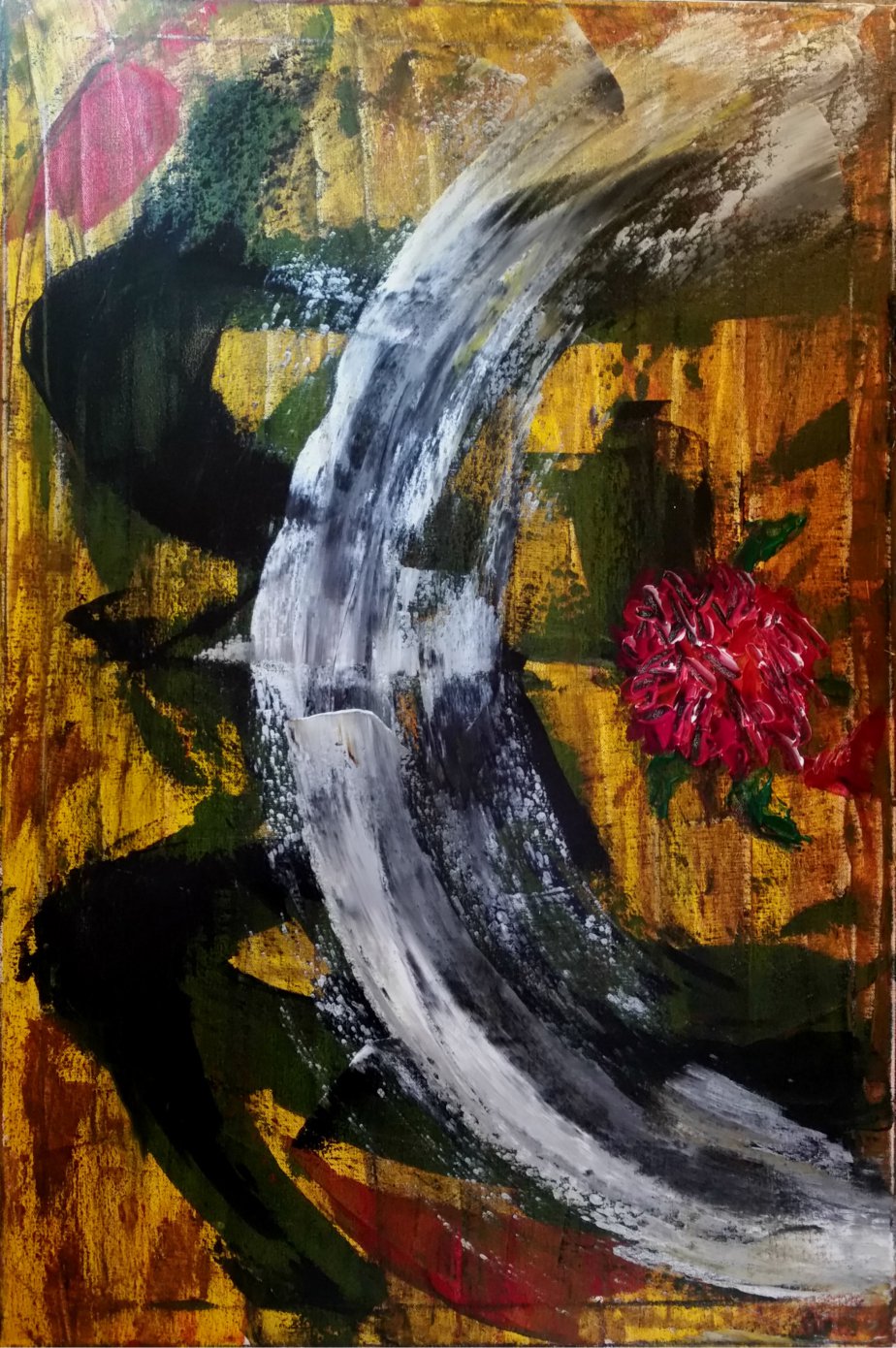 August 4, 2017
Check out Francie & Finch Bookshop on First Friday!  Julie A. Childers will be our featured artist.
Influenced by classes at UNL in Drawing, Design, Photography Julie also takes her inspiration and some technique from Gerhard Richter and Jackson Pollock. Her favorite quote by an artist comes from Richter: "I have nothing to say, and I am saying it." Inspired by other artists, and curious just to see how well she could express herself through it, she started painting in 2014. It's a way for her to creatively show emotion through color and shape, and a quiet pastime.
Instead of a brush, Julie prefers to use palette knives or her bare hands to manipulate the acrylic paint. Julie loves to experiment with new techniques, sometimes choosing to sand down or scrape away the layers to reveal what's underneath, creating a new image. In her mixed media pieces, she uses torn pages from old books, decoupages them to the canvas, then paints over them and sands down to reveal pieces of the paper. She considers herself a tactile person, and enjoys playing with the weight, body and viscosity of the paint as it moves on the canvas. She usually doesn't start with a finished picture in mind; instead she picks her colors and technique, building up layers into an image.
In 2015 Julie won an Award of Merit for her piece, "Untitled", in the Lincoln Artists' Guild 2015 Winter Show.  Julie lives in Lincoln, NE with her husband and four cats.
Join us for the next First Friday Art Walk!  We are on the path between Kiechel Fine Art, Tugboat Gallery, Metro Art Gallery and the Nichole Battelle Van Hook Gallery in the Cornhusker Marriott (they always have a great spread too). We have beautiful art from local artists and beautiful books from around the world.  See you there!
Reception starts at 4:30pm and goes until the end!