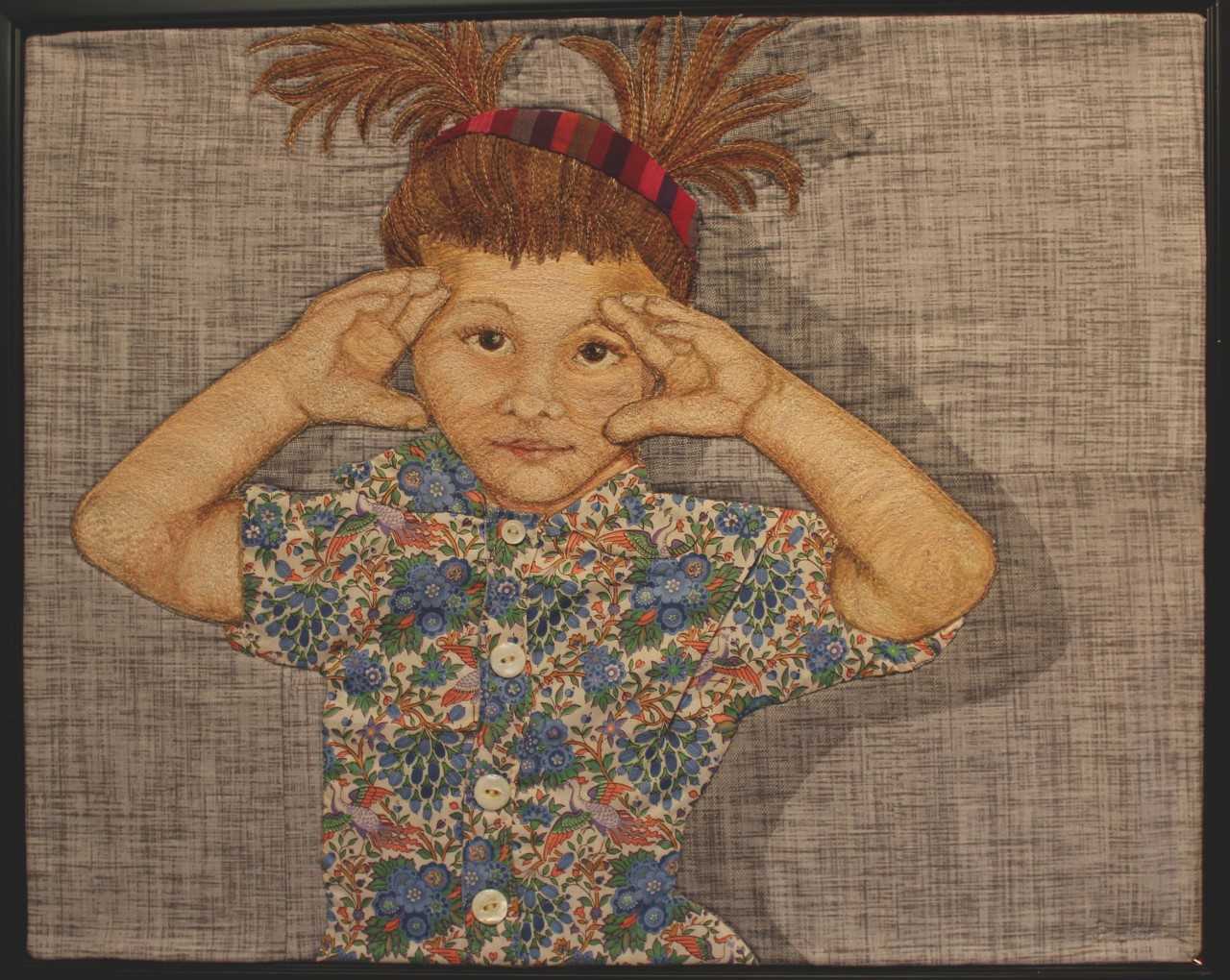 May 3, 2019
5:30 p.m. – 7:30 p.m.  Our featured artist is Lora Rocke.
With a background in design, drawing, painting, batik and quilt making, I dove into creating fiber and thread portraits.
I have developed stitching techniques which allow me to blend colors and the directionality of my stitched threads mimic the way shadows are sketched.
My work focuses on the portraits of friends and family.
My stitching methodology borders on the obsessive, but ultimately allows me to visually evoke painterly renditions of flesh, hair, and emotion.
This 'paint palette' of thread, has provided me with a body of work that references the embroidered and sewn pieces I made growing up.
Each portrait starts with a sketch, then, that sketch is transferred onto a to a neutral base fabric. Layer upon layer of free-motion machine stitches are applied to that base, creating volume and subtle texture. Additional appliqued pieces complete the wardrobe and form the personality of my subject. When finished, all pieces are appliquéd and machine quilted to the background.
The gaze, of each portrait toward the viewer, has remained constant…as has my search for a narrative based on those faces. From a distance, these portraits read as paintings, and only upon closer inspection, does the work's true construction reveal itself.
Mark your calendar! On the First Friday of every month, residents and visitors in Lincoln fill the sidewalks of the downtown and Haymarket areas. Arts organizations, galleries, studios, and a wide variety of local businesses feature regional and national artists as well as live entertainment.
Francie & Finch is located in the historic Telephone Building, on the path between Kiechel Fine Art, the Cornhusker Marriott (they always have a great spread), Metro Art Gallery, Chapin Art Gallery and Tugboat.
Reception starts at 4:30pm and goes until the end!