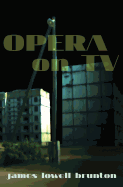 October 23, 2019
6:00 p.m. – 7:00 p.m.
Poet James Brunton will read from his new book, Opera TV ~
"Some art tells us there is always more. Some art tells us this isn't enough."The asylum. The classroom. The highway at night. OPERA ON TV travels through diverse landscapes via diverse forms—from prose blocks to lists to transcripts. These poetic experiments blend explorations of queer, trans, and feminist aesthetics and politics with
musicality and lyricism.
Reviews:
No matter the subject, the passion with which Brunton handles his obsessions makes each
one of these poems a love poem." —Jericho Brown
At once disarmingly personal and alarmingly alert to our political and historical moment."
—Kwame Dawes
His poems, relentlessly playful and remarkably exact, unearth every good thing we have
loved, lost, and likely misunderstood." — Stacey Waite
JAMES LOWELL BRUNTON is an artist and writer based in Lincoln, NE.  His poetry and experimental writing appear in many journals, including Denver Quarterly, Cincinnati Review, and Hotel Amerika.  His chapbook The Future Is a Faint Song (co-authored with Russell Evatt) was the winner of the 2012 Dream Horse Press poetry competition.
Book available for purchase and James will sign them!
PLUS – It's Shop to Stop Violence Week and a portion of all sales go to Voices of Hope!