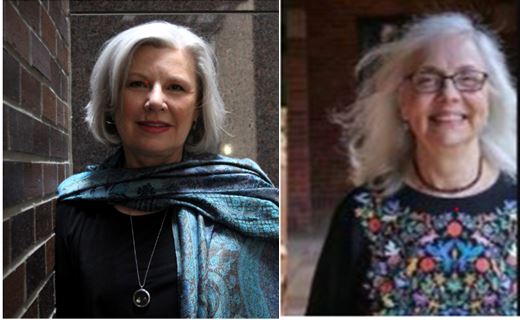 October 17, 2019
6:00 p.m. – 7:00 p.m.
Meet poets Marge Saiser and Karen Shoemaker.
Marjorie Saiser is the author of six collections of poetry, including Losing the Ring in the River, winner of the Willa Award for Poetry in 2014. Saiser has received four Nebraska Book Awards and the Literary Heritage Award. Her work has been published in Poetry East, Poet Lore, Rattle, Nimrod, and at poetmarge.com. Her new book, Learning to Swim, published by Stephen F. Austin State University Press, is a combination of poems and memoir.
This Just In:  The Woman in the Moon by Marge Saiser, has won the 2019 Nebraska Book Award for poetry!
Karen Gettert Shoemaker is the author of the novel The Meaning of Names and the collection Night Sounds and Other Stories. Her fiction and poetry have been widely anthologized. Her novel was selected for the communitywide reading programs One Book One Nebraska selection, 2016, and Omaha Public Library's "Omaha Reads" 2014. She is a mentor with UNO's MFA in Writing Program and founder of Larksong Writers' Place.
Join us for a lively poetry reading!  Books available for purchase and Karen & Marge will sign them!