04jun3:30 pm5:00 pmAuthor Signing and Poetry Reading - Tyler Jacobs and Marjorie Saiser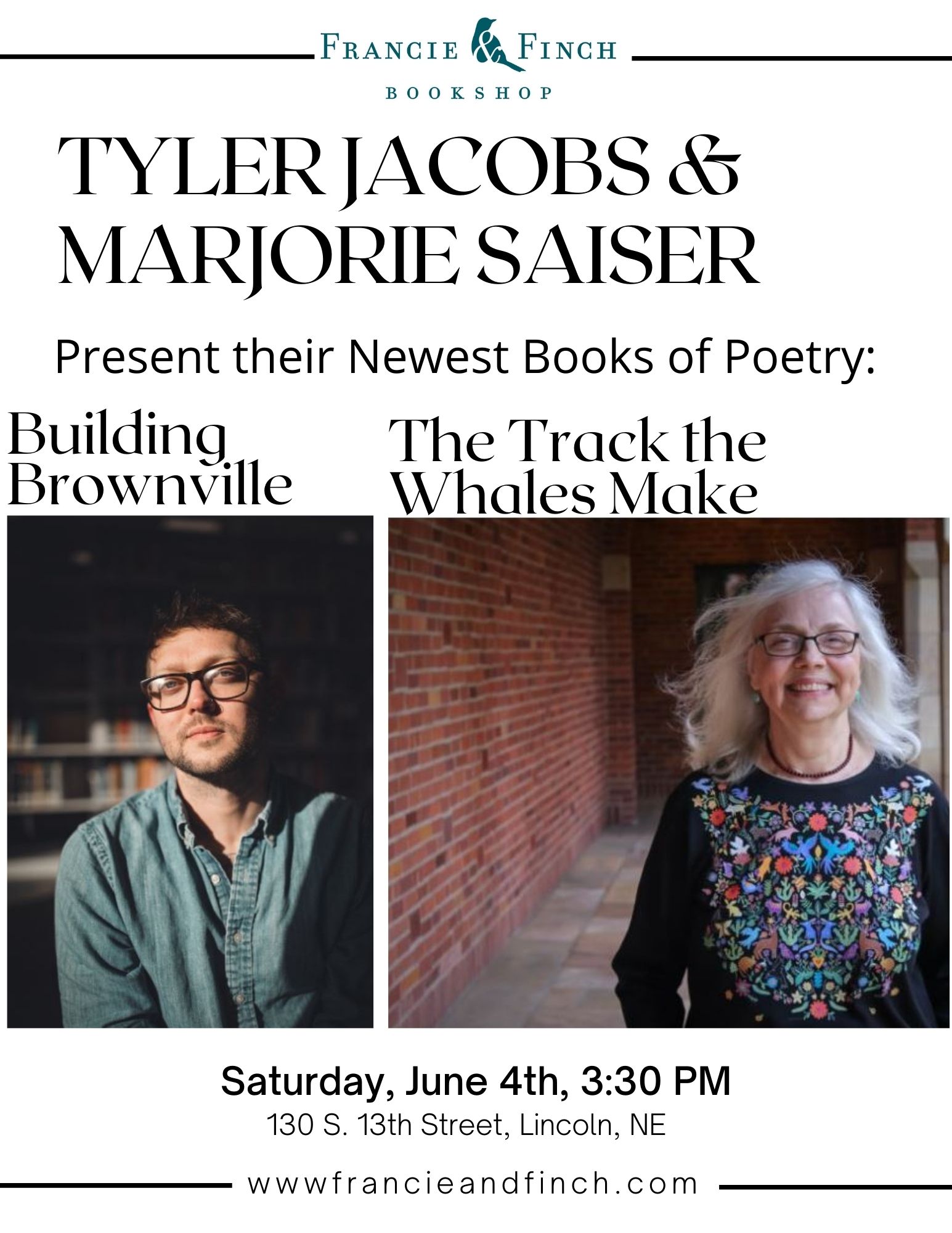 Event Details
On June 4th at 3:30 F&F will be welcoming poets Tyler Jacobs and Marjorie Saiser as they present their newest books. Join us for food, and poetry!
Books will be available for purchase at the event or by calling Francie & Finch at 402-781-0459.
Book Signing to Follow
About the Books:
The Track the Whales Make: Marjorie Saiser's strong, clear language makes the reader feel at home in her poems. Dealing with all the ways love goes right and wrong, this collection honors the challenges of holding firm to who we really are, as well as our connections to the natural world. The Track the Whales Make includes poems from Saiser's seven previous books, along with new ones. Her poetry originates from the everyday things we might overlook in the hurry of our daily routines, giving us a chance to stop and appreciate the little things, while wrapped in her comforting diction. Because the poems come from ordinary life, there is humor alongside happiness and sadness, the mixed bag we survive or create, day by day.
Building Brownville: Building Brownville explores forms of grief through the internalization of experience and wanders further to wonder if the past is too far away to fix the present while also serving as a love letter to Nebraska. This collection offers a millennial voice within poetry–a voice that not only subverts the norm of what poetry is but defies the stereotypes of a region, offering connection through grief, love, and place–to experience a somewhere which we have never been.
About the Authors:
Marjorie Saiser – Her poems deal with relationships, the good and not so good. Her Master's Degree in Creative Writing is from the University of Nebraska, where she received an Academy of American Poets Award. She sometimes likes to memorize her poems and those of others. Her books and a sample reading can be viewed at www.poetmarge.com. Of her work, Ted Kooser (U.S. Poet Laureate 2004-2006) has said: "No poet in this country is better at writing about love and, in a sense, all of her poems are about love."
Tyler Jacobs – He was born and raised in central Nebraska. He is a graduate of the University of Nebraska at Kearney and works for the Nebraska Writers Collective as a Teaching Artist. He lives in Kearney, Nebraska.
Time

(Saturday) 3:30 pm - 5:00 pm
Location

Francie & Finch

130 S. 13th Street