Book Launch Party - Joy Castro - One Brilliant Flame
10feb5:30 pm6:30 pmBook Launch Party - Joy Castro - One Brilliant Flame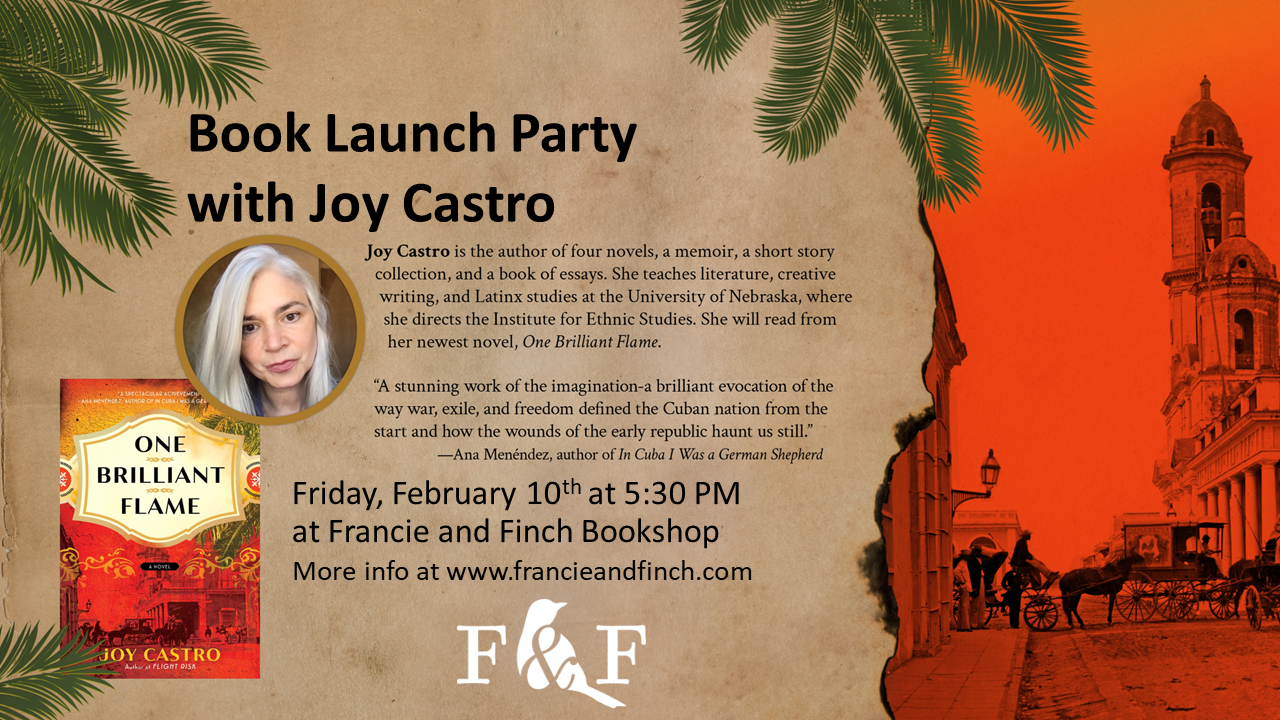 Event Details

Join us on Friday, February 10th at 5:30 for an exciting book launch with Joy Castro! One Brilliant Flame is her newest novel set in nineteenth-century Key West.

About the Book:
A nineteenth-century utopia becomes a powder keg of political intrigue and betrayal in an enthralling historical novel–inspired by actual events–by the author of Flight Risk. Key West, 1886. The booming cigar industry makes it the most prosperous city in Florida. As a rebel base for the anticolonial insurgency in Cuba, it's also a tinderbox for six young friends with ambitious dreams. They all brim with secrets: Zenaida, the daughter of an assassinated Havana journalist; power-hungry Sofia, who plots a fast track to success; Chaveta, Zenaida's loyal comrade in arms who fearlessly flouts tradition; Feliciano, a charismatic Spanish anarchist; Líbano, the cafetero, silent and watchful; and Maceo, a daring guerrilla soldier who fights a brutal undertow. As lives intertwine, revolution smolders, and passions ignite, the bustling coral island is set to explode. Against the backdrop of the Great Fire of Key West, One Brilliant Flame explores the luminous fates of consuming passion and encroaching peril in the face of insurrection, sacrifice, and inextinguishable hope.

About the Author:
Joy Castro is the award-winning author of Flight Risk, a finalist for a 2022 International Thriller Award; the post-Katrina New Orleans literary thrillers Hell or High Water, which received the Nebraska Book Award, and Nearer Home; the story collection How Winter Began; the memoir The Truth Book; and the essay collection Island of Bones, which received the International Latino Book Award. She is also the editor of the anthology Family Trouble and served as the guest judge of CRAFT's first Creative Nonfiction Award. Her work has appeared in the New York Times Magazine, Senses of Cinema, Ploughshares, Gulf Coast, Brevity, and Afro-Hispanic Review; on Salon; and elsewhere. A former writer-in-residence at Vanderbilt University, she is currently the Willa Cather Professor of English and Ethnic Studies at the University of Nebraska-Lincoln, where she directs the Institute for Ethnic Studies. For more information visit www.joycastro.com.
You can pre-order the book by calling Francie and Finch Bookshop or online HERE!
more
Time

(Friday) 5:30 pm - 6:30 pm
Location

Francie & Finch

130 S. 13th Street