Visiting Author - Maud Casey - City of Incurable Women
30mar5:30 pm6:30 pmVisiting Author - Maud Casey - City of Incurable Women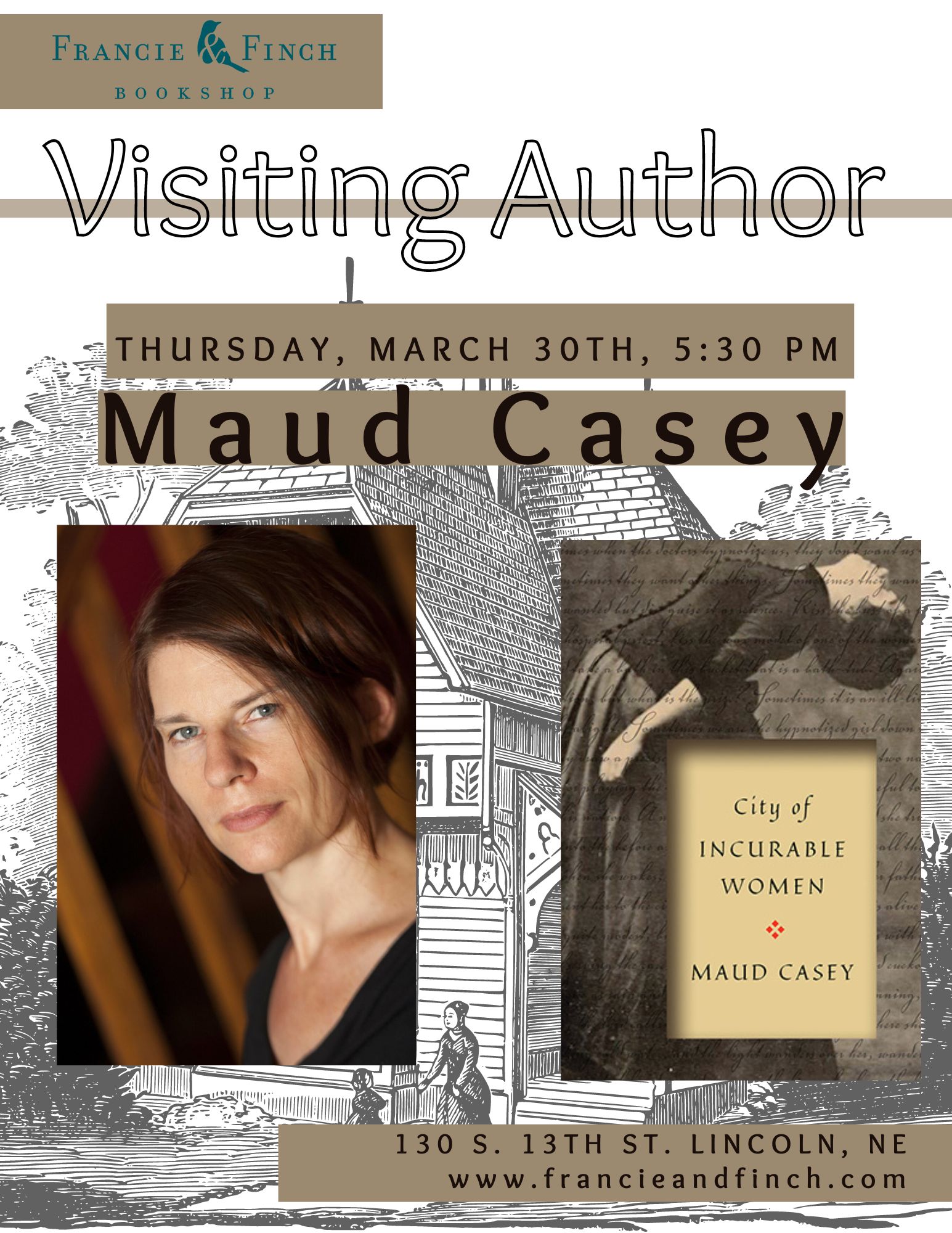 Event Details
Join us on Thursday, March 30th at 5:30 pm to welcome author Maud Casey!
Maud visits Lincoln as part of the Creative Writing Program of the UNL English Department.
About the Book:
Long history's ghosts, marginalized and dispossessed due to their gender and class, women diagnosed as hysterics are reimagined by Maud Casey as complex, flesh-and-blood people with stories to tell in CITY OF INCURABLE WOMEN. These linked, evocative prose portraits, accompanied by period photographs and medical documents both authentic and invented, poignantly restore the humanity to the nineteenth-century female psychiatric patients confined in Paris's Salpêtrière hospital and reduced to specimens for study by the celebrated neurologist Jean-Martin Charcot and his male colleagues.
About the Author:
Maud Casey, a finalist for the American Library in Paris Book Award, and the Joyce Carol Oates Book Prize is the author of four novels, a short story collection, and THE ART OF MYSTERY: THE SEARCH FOR QUESTIONS. Her essays and book reviews have appeared in The New York Times Book Review, Washington Post Book World, Salon, Poets and Writers, A Public Space and Literary Imagination. She is the recipient of the Italo Calvino Prize, the St. Francis College Literary Prize, and a Guggenheim Fellowship. She lives in Washington, D.C., and teaches in the creative writing program at the University of Maryland.
Book Review:
"City of Incurable Women is a brilliant exploration of the type of female bodily and psychic pain once commonly diagnosed as hysteria–and the curiously hysterical response to it commonly exhibited by medical men. It is a novel of powerful originality, riveting historical interest, and haunting lyrical beauty." —Sigrid Nunez, author of The Friend and What Are You Going Through
Order City of Incurable Women

HERE
more
Time

(Thursday) 5:30 pm - 6:30 pm CST
Location

Francie & Finch

130 S. 13th Street