25may6:00 pm8:00 pmVisiting Writers Series at Larksong Writers Place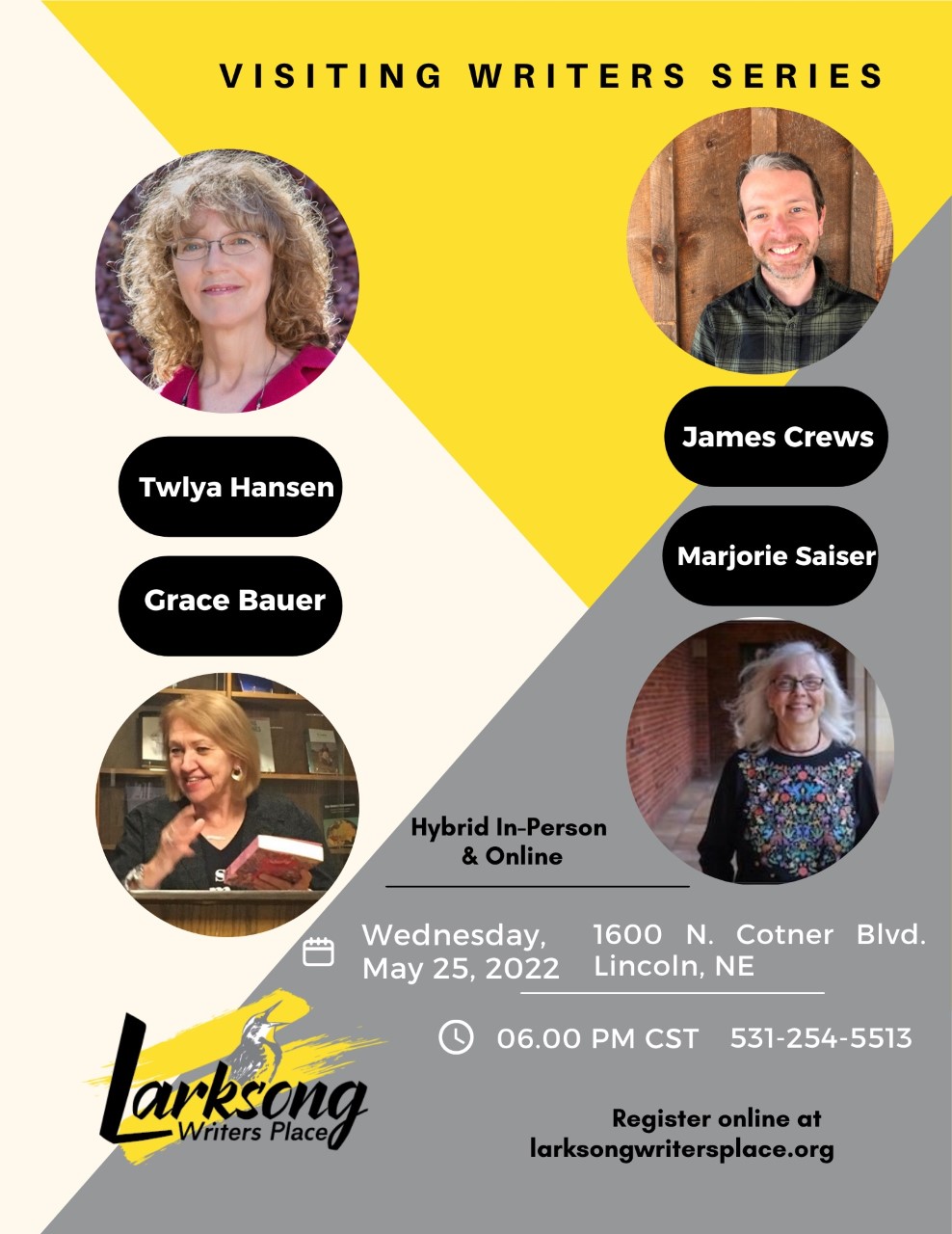 Event Details
Francie & Finch is excited to join these amazing artists as they present their newest works at Larksong Writers Place! We will be there with their newest titles and other titles for you to buy and take home with you!
You can register online for this hybrid in-person/online event at larksongwritersplace.org
Purchase a copy of Unholy Heart by Grace Bauer HERE
Purchase a copy of The Track the Whales Make by Marjorie Saiser HERE
Purchase a copy of The Path to Kindness edited by James Crews HERE
Purchase a copy of Rock Tree Bird by Twyla Hansen HERE
About the Authors:
Grace Bauer:
Her most recent collection is Unholy Heart: New and Selected Poems (University of Nebraska Press, 2021). Previous books include MEAN/TIME, The Women At the Well, Nowhere All At Once, Retreats & Recognitions, and Beholding Eye, as well as several chapbooks. She also co-edited the anthology Nasty Women Poets: An Unapologetic Anthology of Subversive Verse. Her poems, essays, and stories have appeared in numerous anthologies and journals, and have been awarded an Academy of American Poets Prize, the Society of Midland Authors' Book of the Year Award, The Idaho Poetry Prize, and fellowships from the Nebraska Arts Council, The Virginia Commission for the Arts, the Virginia Center for the Creative Arts, the Kimmel Harding Nelson Center, and others. She has also received numerous awards for her teaching. Bauer is the Aaron Douglas Professor Emerita at the University of Nebraska.
Marjorie Saiser:
Her poems deal with relationships, the good and not so good. Her Master's Degree in Creative Writing is from the University of Nebraska, where she received an Academy of American Poets Award. She sometimes likes to memorize her poems and those of others. Her books and a sample reading can be viewed at www.poetmarge.com. Of her work, Ted Kooser (U.S. Poet Laureate 2004-2006) has said: "No poet in this country is better at writing about love and, in a sense, all of her poems are about love."

James Crews:
James Crews is the editor of the best-selling anthology, How to Love the World, which has been featured on NPR's Morning Edition, in the Boston Globe, and the Washington Post, and is the author of four prize-winning collections of poetry: The Book of What Stays, Telling My Father, Bluebird, and Every Waking Moment. His poems have been reprinted in the New York Times Magazine, Ploughshares, The New Republic, and The Christian Century, and in former US poet laureate Ted Kooser's weekly newspaper column, "American Life in Poetry," and featured on Tracy K. Smith's podcast, The Slowdown. He worked with Ted Kooser on "American Life in Poetry," which reaches millions of readers across the world. Crews holds an MFA in creative writing from the University of Wisconsin-Madison and a PhD in writing and literature from the University of Nebraska-Lincoln. He teaches poetry at the University at Albany and lives with his husband in Shaftsbury, Vermont.
Twyla Hansen:
Selected as Nebraska's State Poet for 2013-2018. She co-directs the Poetry from the Plains website, and she has conducted readings/writing workshops through Humanities Nebraska since 1993. Her newest book, Rock • Tree • Bird, won the 2018 WILLA Literary Award and Nebraska Book Award. She has six previous books of poetry, including Potato Soup, which won the 2012 Nebraska Book Award and was selected as a Notable Nebraska 150 Book in 2017. Her writing is published in periodicals, anthologies, and websites, including Briar Cliff Review, Prairie Schooner, South Dakota Review, More in Time: A Tribute to Ted Kooser (2021 University of Nebraska Press), Nebraska Poetry: A Sesquicentennial Anthology 1867-2017 (2017 SFASU Press), Thinking Continental: Writing the Planet One Place at a Time (2016 University of Nebraska Press), Academy of American Poets, Poetry Foundation, Poetry Out Loud, and many more.
Time

(Wednesday) 6:00 pm - 8:00 pm
Location

Larksong Writers Place

1600 N. Cotner Boulevard